Video teaser
On YouTube, watch some images from the recording session.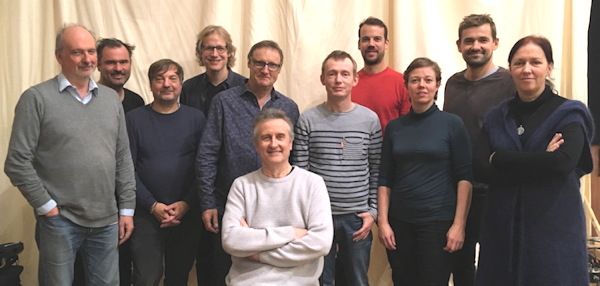 Peter Hertmans (gt), Sam Gerstmans (b), Dré Pallemaerts (drs), Paul Heller (sax), Bert Joris (tp),
Michel Herr (comp/arr.), Pierre Heneaux (vl 2), Benoît Leseure (vl 1),
Merryl Havard (cello), Jean-François Durdu (alto), Nathalie Loriers (p)

More concert photos here and here

The press / La presse


"...The writing is excellent, superbly balanced. The interactions between Nathalie Lorier's piano (what a touch !) and Peter Hertmans' guitar (full of ideas) are ideal... Bert Joris, on trumpet, illuminates the ensemble with his sure and precise playing. Groovy, powerful and delicate, the tunes tell a beautiful story. One can speak about tenderness rather than melancholy in "Pages and Chapters". What a great sense of writing and arrangement ! Jazz and classical blend into each other. No superimpositions, no collage,...a real integration of two worlds. Veils of translucid and colorful musics which come together. It is magnificent and touching."
Jacques Prouvost, from his Jazzques blog, about the concert at the Gouvy Jazz Festival (B).

"Michel Herr has always loved medium and large ensembles. He also likes to compose film music. And he is not the kind of person who sees life in black despite all the setbacks it can bring (hence the name of his band). So he composed and arranged a specific repertoire for a jazz sextet ... and a string quartet. The cream of the crop, so to speak. On this very written and demanding music (for the musicians, at least), the soloists all enjoy their moment. And we enjoy the mellow sax on "Unexpected Encounters" or the more incisive "The Right Choices? We admire the purity of the trumpet on the tender "Thinking Of You", the voluble and romantic piano playing on "Chemistry And Mystery" or the rumbling guitar on "Modules". An elegant and refined concert that can only put us in a good mood."
Jacques Prouvost, from his Jazzques blog, about the concert at the Tournai Jazz Festival (B).


* * *

IN GERMAN

About the concert at the Stadtgarten, Cologne (D) (photos) :
"Für Paul Heller war es längst überfällig, den belgischen Pianisten, Komponisten und Arrangeur Michel Herr einzuladen.
"Fast meine gesamte musikalische Sozialisation hat mit Michel zu tun. Immer wieder hat er mich mit seinen Projekten begeistert, vor allem seinem Quartett mit Wolfgang Engstfeld, aber auch mit Toots Thielemans habe ich ihn unendlich oft gesehen und gehört. Für mich ist er einer der wichtigsten europäischen Jazz-Musiker, der sowohl als Instrumentalist als auch als Komponist und Arrangeur seine Spuren hinterlassen hat.'
Michel Herrs aktuelles Projekt ist das 'Positive Tentet', mit dem ihm auf besondere Weise die Synthese von modernem Jazz und Streichquartett geglückt ist. Elegant und melodisch nuancenreich verweben sich prägnante solistische Höheflüge von Saxofon und Trompete, Klavier, Gitarre und Kontrabass mit dem Klangreichtum der Streicher zum organisch gewachsenen Klangkunstwerk. Vertrauensvoll legt Herr dabei seine ausgefeilten Kompositionen in die Hände seiner Musikerinnen und Musiker, quasi als ein Klangarchitekt, der alle Elemente perfekt in Dynamik und Schönheit ausbalanciert.

More press clippings can be found in the album page Michel Herr - Positive.